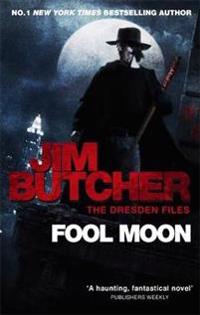 Meet Harry Dresden, Chicago's first (and only) Wizard P.I. Turns out the 'everyday' world is full of strange and magical things – and most of them don't play well with humans. That's where Harry comes in. Business has been slow lately for Harry Dresden. Okay, business has been dead. Not undead – just dead. You would think Chicago would have a little more action for the only professional wizard in the phone book. But lately, Harry hasn't been able to dredge up any kind of work – magical or mundane. But just when it looks like he can't afford his next meal, a murder comes along that requires his particular brand of supernatural expertise. A brutally mutilated corpse. Strange-looking paw prints. A full moon. Take three guesses. And the first two don't count …Magic – it can get a guy killed.
Jag älskade den här boken. Tyckte faktiskt att den var ännu bättre än Storm Front! Harry Dresden har den inte lätt. Alla missuppfattar det han gör. Allt blir bara fel! Men det är så bra!
Jag glömde att skriva ett inlägg om boken när jag läst den och nu kommer jag inte ihåg så mycket av den. Eller jag vet att den handlade om riktigt otäcka mord och olika typer av varulvar. Riktigt intressant med de olika sorterna.
Jag kommer absolut att fortsätta läsa The Dresden Files. Nästa bok i serien heter Grave Peril och sedan finns det ju 12 till..