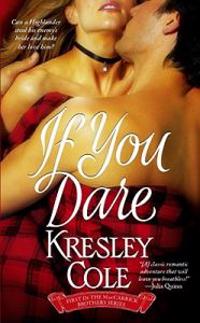 Historien tar sin början 1854 i Andorra. Där bor Annalia Llorente med de få tjänarna som finns kvar. Hennes äldre bror krigar mot den hänsynslösa generalen Reynaldo Pascal.
Legosoldaten Courtland McCarrick har varit anställd av just Pascal, men när han upptäckte hur grym han var mot befolkningen så vägrade han vara kvar. Han ville bara ha de pengarna som de tjänat ihop. Pascal blev inte glad över detta utan Court fångades, misshandlades och det var meningen att han skulle mördas. Men han lyckades utkomma genom att kasta sig från en hög bro. Hans svårt skadade kropp flyter iland nedanför Annalias borg, och hon tar med honom dit trots att hon hatar skottar. Men Court är inte vilken skotte som helst och Annalia tänker använda honom för att få tillbaka sin bror.
Court vet inte vad han ska tro om Annalia, men för första gången i sitt liv faller han för en kvinna och är beredd att trotsa familjeförbannelsen. Det står skrivet att Court och hans bröder "Shall walk with death or walk alone och att de aldrig ska få uppleva kärlek
Naturligtvis börjar de att fool around. Love, love, love….
Boken är underhållande och rolig. Men riktigt förutsägbar som sig bör. Court är inte alls så bad ass som han tror.
Lite irriterande med oskulder och såndant tjafs. Han har minsann legat runt men inte hon. Det irriterar mig . Och själva the defloration scene, inte så trolig eller?
Men jag tycket om boken ändå och det är en riktig sträckläsningsbok. Misstänkte att boken som kommer att handla om de äldsta brorsan Ethan kommer att bli min favorit. Me like the evil ones!