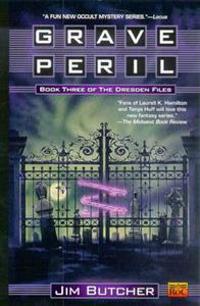 Harry Dresden's faced some pretty terrifying foes during his career. Giant scorpions. Oversexed vampires. Psychotic werewolves. It comes with the territory when you're the only professional wizard in the Chicago area phone book.But in all Harry's years of supernatural sleuthing, he's never faced anything like this: the spirit world's gone postal. All over Chicago, ghosts are causing trouble–and not just of the door-slamming, boo-shouting variety. These ghosts are tormented, violent, and deadly. Someone–or something–is stirring them up to wreak unearthly havoc. But why? And why do so many of the victims have ties to Harry? If Harry doesn't figure it out soon, he could wind up a ghost himself . . .
När slöjan mellan den verkliga världen och The Nevernever är tunn. Det är ovanligt många hämndlystna spöken som dyker upp och som Harry och hans vän Michael som är en Knight of God måste skcka tillbaka. Boken börjar med en riktigt otäck historia på sjukhuset där de nyfödda barnen finns. Ett spöke Agatha Hagglethorn som försöker döda barnen. Det är otäckt.
Som vanligt lyckas Harry bli mer och mer intrasslad och mer och mer skadad. Det är inte bara spöken och demoner han slåss mot. Det är vampyrer också. Dessutom kan Harry komma att förlora den han älskar mest.
Som vanligt är böckerna roliga, spännande och hemska. Jag älskar hans katt Mister.
Grave Peril är den tredje boken i The Dresden Files, av Jim Butcher.